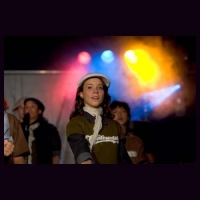 The Continentals
www.continentals.nl




Genres: spoken word, choir, praise/worship, kerst,

Biografie door Continental Sound Music
Een concert van The Continentals vergeet je niet. Met hedendaagse muziek, karakteristieke vocale arrangementen, aansprekende choreografieën, moderne theatertechnieken en een energiek en enthousiast programma brengen The Continentals een concert dat met niets te vergelijken is.
Alle 70 groepen die jaarlijks over de hele wereld op pad gaan zingen live en hebben een heldere boodschap. The Continentals zijn toonaangevend, trendsettend en zowel de grootste als de oudste muziekbediening in de christelijke wereld. Jaarlijks verschijnt er een gloednieuw programma, natuurlijk met nieuwe CD's.
Albums